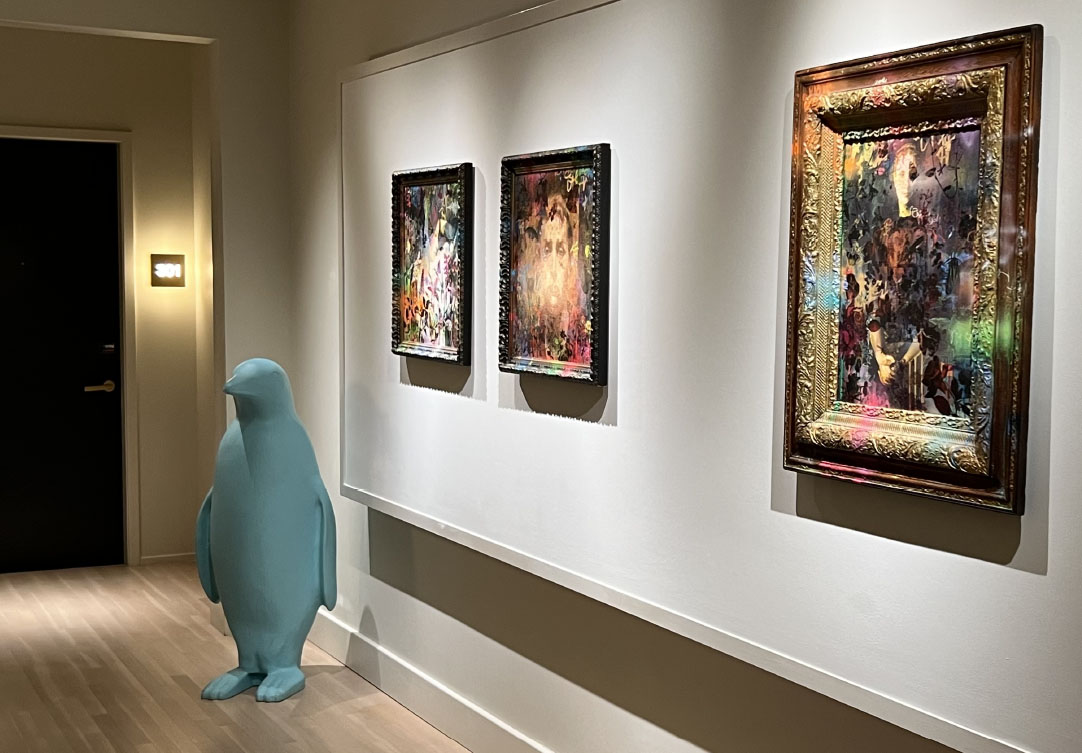 Works from the Overgrowth Collection
21c Museum Hotel Kanas City
JULY 2023-DEC 2023 | GUEST FLOORS
"ELEVATE" GROUP EXHIBITION AT 21c MUSEUM HOTEL
KANSAS CITY
Works from the Abundance and Butterflies & Blooms Collection
21c Museum Hotel Kanas City
Don't Bee Fooled is a graffiti botanical in the Overgrowth Series where street art ephemera, botanicals, bees and other garden creatures "grow" over a classic image—signaling the "death" to outdated modalities and social norms. Don't Bee fooled was created in response to the 2022 Supreme Court Decision to overturn Roe v. Wade. A close look will reveal graffiti elements infringing on a women's right to make choices about her body. Messages like "It's Okay Not to be Okay" and "Women Unite" signify solidarity. The great black wasps off to the left on a tall bulbus stem signify the patriarchy and it's continued domination over women's issues. The humming bird seeking nectar speaks to women's hunger to have complete control over their lives and bodies. Foundational portrait done by American artist Keynon Cox (1856-1919) Subject unknown. 18th Century.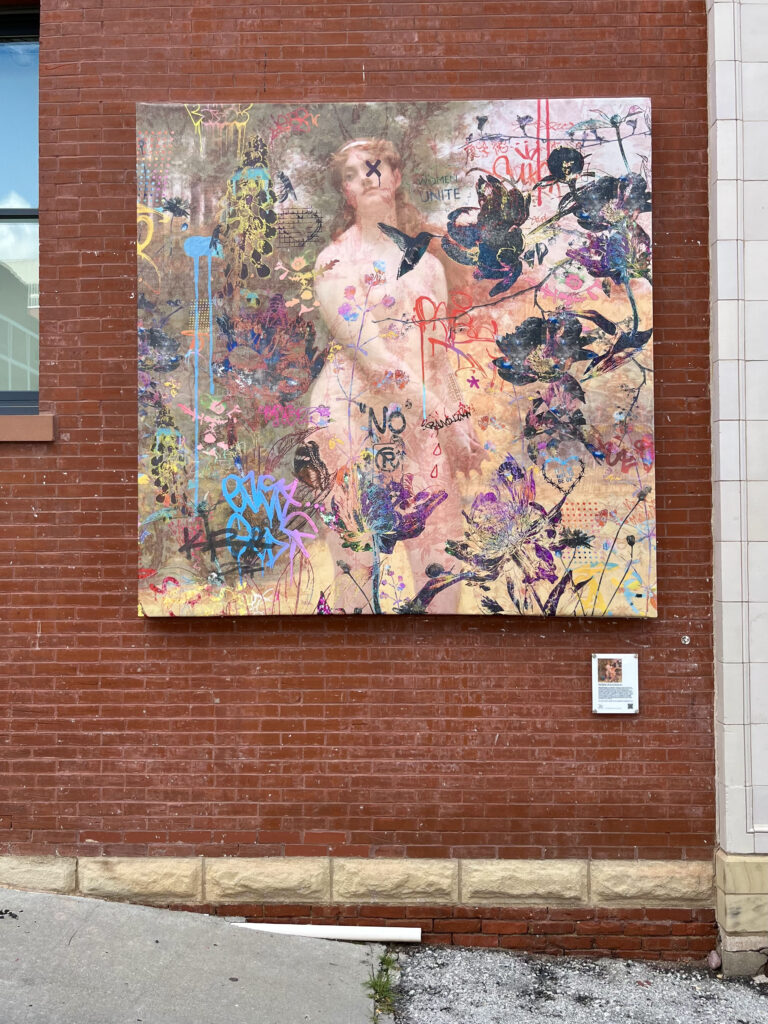 Don't Bee Fooled 8ft x 8ft Artboard
21c Museum Hotel Kanas City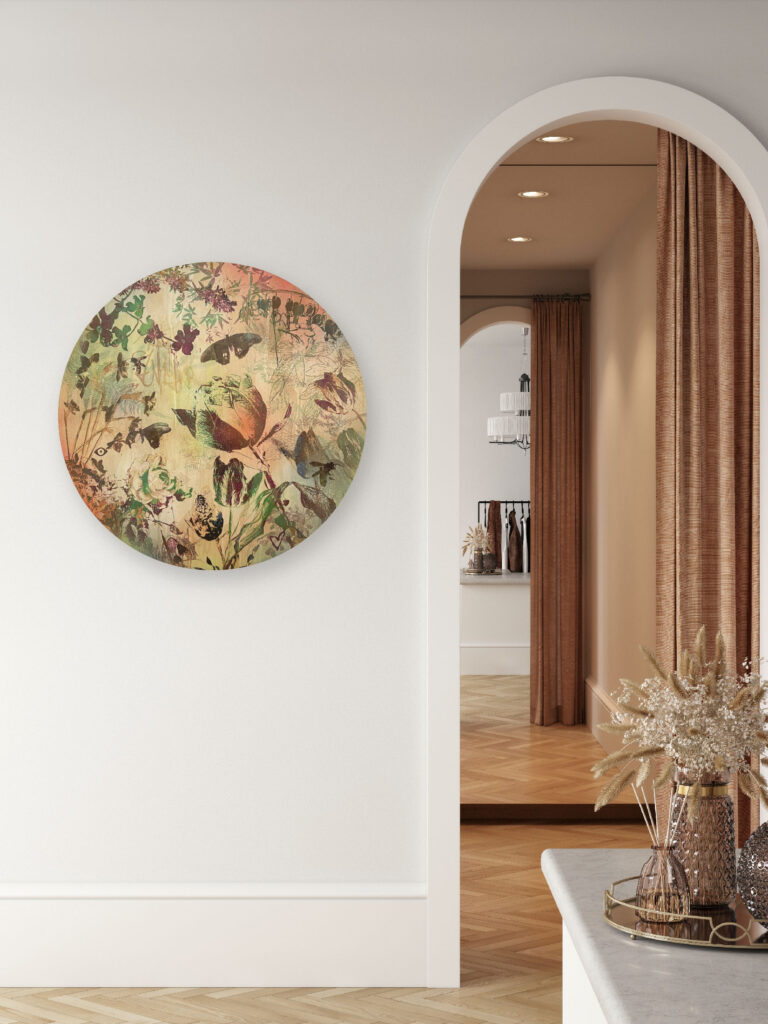 Butterflies & Blooms Collection (LEFT)
Your Secret Garden No. 1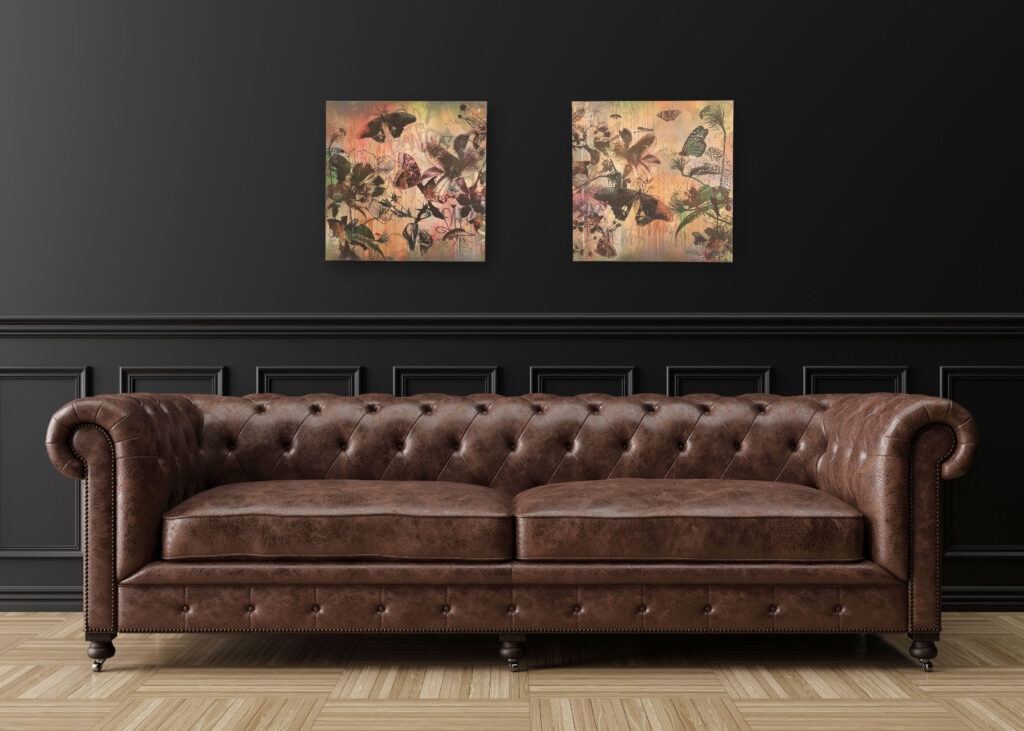 Overgrowth Collection (RIGHT)
Bee Supportive
The Butterflies & Blooms and Overgrowth Collections feature vibrant mixes of graffiti and lush botanicals.
In the Butterflies and Blooms Collection, those elements are merged with street art ephemera. Re-imagined, they become individual drawings. Colors from decaying graffiti walls imbue the drawings. Imagery is physically burnished into the surface of the substrate in multiple stages intertwined with acrylic, pigment ink, spray paint, gold leaf to form a composed work of art that is uniquely individual blending nature with the urban landscape
With Overgrowth, old world meets new world—where bygone, traditional portraits and vintage textiles become the foundation of a new graffiti botanical.
Each portrait is "overgrown" with botanicals and street art vignettes, symbolizing the idea of rebirth: obscuring the outdated and ushering in the contemporary.
Ornate and vintage frames become part of the work—adorned with spray paint, graffiti gestures and drips for a seamless street art-inspired connection between art and frame.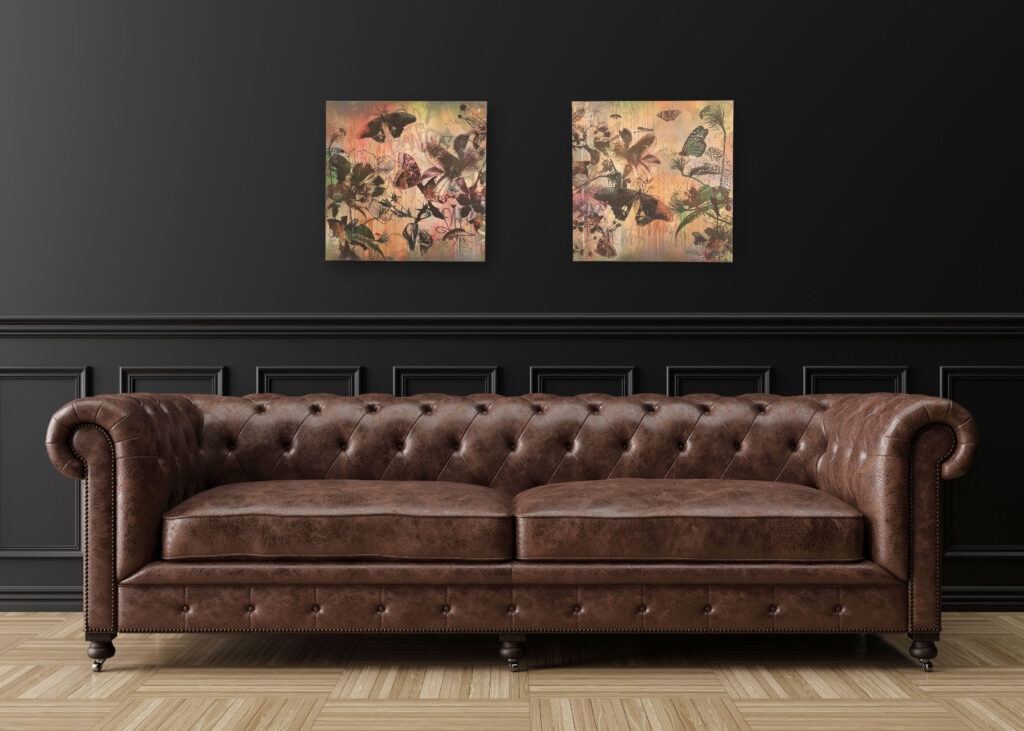 Butterflies & Blooms Collection
You Give Me Butterflies No. 2 & 3
IN-HOME VIEWING of selected artworks in the KC Metro area available
Please call or text Katrina at 214.477.6363 for more details.